The Concept Behind Charcoal Expressions
Art should be an expression of yourself and reflect the talents deep inside that you might not feel you have.  Charcoal Expressions gives you the guidance you need to become expressive through these charcoal drawings.  Charcoal is very forgiving and correctable which is why we find it so much fun.  All of our drawings are customizable by you.  Once you get the first drawing with us under your belt, you will understand how easy it is to work with.  Each drawing is instructed step by step, so no drawing experience is needed.  An Enjoyable experience whether you have a subscription, just enjoy the supplies, or at a live Event.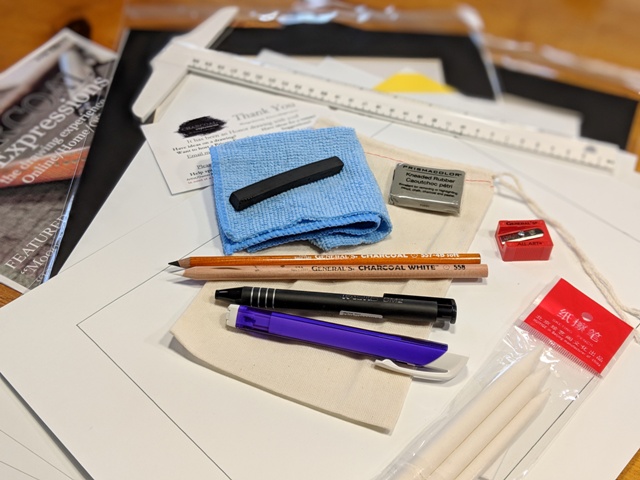 What to Expect - Subscription Box
The Subscription Box was created to bring the experience to deserving people that we can not reach in person.  The Subscription includes 2 drawings per month, video tutorials, supplies needed, paper, and mattes for easy framing.  We are here to take the intimidation out of these drawings.  Each drawing has a challenge of its own. For example one might be a study of a night scene with shading and the other is a study of perspective with lots of measuring. Please give it a try, you will not be dissapointed.  
Why is my subscription period over and i'm still getting billed and shipments?
The Subscription period refers to your commitment period. After that you will be billed and shipped until you cancel your subscription. We are committed to integrity and honesty. This is a ongoing trend in the industry and is not the choice of Charcoal Expressions LLC. This is a rule of the provider and if you need help please contact us.
If I subscribe, why do I need to add the Introduction Kit?
If this is your first box, the introduction kit includes all the Reusable Tools needed to create the drawings. The plexiglass, erasers, t square, blending tools, blending towel etc. From my personal experience these tools are an asset to all my drawings,so instead of you having to find them all I have placed them in your first box.
When will my Subscription Box arrive?
Where are the video tutorials?
The video tutorial link is included only in the monthly catalog that is in your box. Please type the link carefully and the video will show up. If you have any problems please do not hesitate to message us.
Shipping is Free for Subscriptions only. Max shipping fee on all other orders will be $5.55
Your order may be changed based on the process of the order. We will always try our best to accommodate. Please email us at: orders@charcoalexpressions.com
You just need to log into your account and the link will be available. Please feel free to contact us with any shipping related questions or the carrier and we will try our best to get it handled. orders@charcoalexpressions.com
There is a problem with one of my supplies.
Sometimes things happen in manufacturing that is out of our control, so if you have a problem with one of our supplies that is defective please contact us at info@charcoalexpressions.com and we will do our best to get into your next box.
When will my order arrive?
Orders placed by the 15th of every month will be shipped out for next month delivery (in time for first of the month in most of the US).
Do you have an Idea for a new drawing?
Do you have any suggestions for us?
Would you like to plan a Live Event?
Are you a Business that is in need of some Team Building?
Any Questions, Please email us here.